Pitch your venture for a chance to win cash prizes valued at $100,000, and in-kind prizes valued at over $50,000!
The $100k New Ventures Competition is the flagship venture competition at Tufts. Early stage innovators and entrepreneurs pitch their ideas in three tracks: General Technology, Social Impact, and Healthcare & Life Science. We welcome applicants across the Tufts community: Undergraduate and graduate students, recent alumni, faculty and staff across all 11 schools and colleges at Tufts.
The competition culminates in live pitch competitions at the semi-finals and finals. All semifinalist teams will receive a $500 venture award and will be eligible to apply for a $5,000 AWS (Amazon Web Services) credit. Finalists compete for a chance to win cash and in-kind services valued at over $250,000 across all prizes and awards.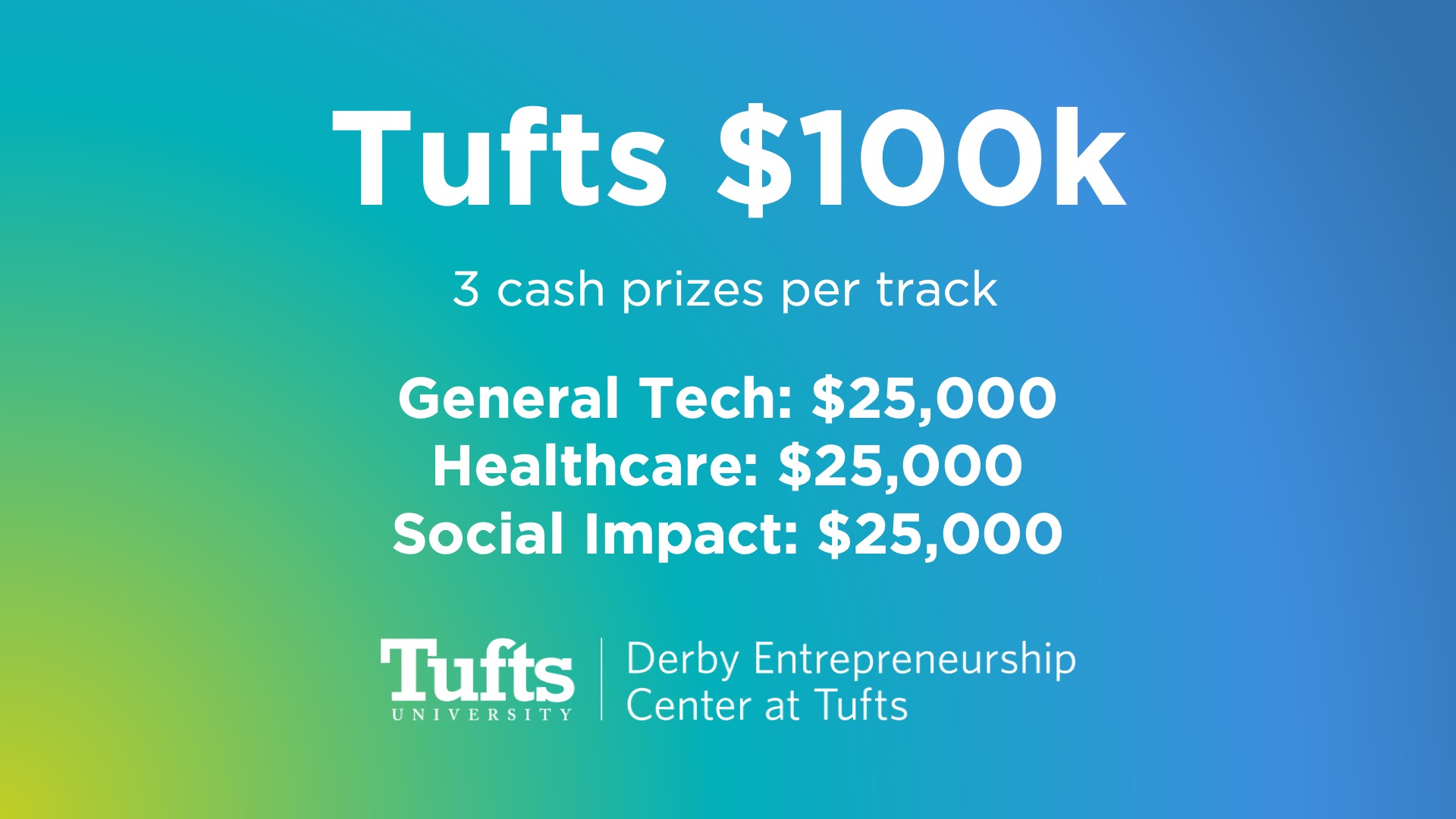 Hybrid Info Sessions:
Cummings School of Veterinary Medicine – TBD
Tufts School of Dental Medicine – TBD
Tufts University School of Medicine – TBD
Tufts SMFA – TBD
Applications open: February 1, 2024
Deadline: February 25, 2024
Semi-finals: March 14, 2024, 6-9pm ET
Finals & Celebration: April 5, 2024, 2-6pm ET
Pitching & Judging Criteria
The live semi-final and final pitches will be 5 minutes long with 5 minutes of Q&A from a panel of judges
In addition to pitch practice, semi-finalists and finalists will be coached on lighting and audio/visual setup for the best virtual pitch possible
Judging Rubric for All Stages
Problem: Does the team understand the problem and their target customer?
Solution: Does the solution solve the problem in a unique manner compared to the alternative?
Go to market strategy: Does the team have a credible and actionable go-to-market strategy?
Financial sustainability: Is the proposed business model financially sustainable?
Scale: Is the venture capable of scaling up to impact a large number of people?
Impact: How is the world a better place if the team solves this problem?
Team: Did the team convince the judges they are the right people to solve this problem?
Presentation: Was the presentation engaging and effective?
Wildcard: Did anything else particularly impress you?