Pitch your venture for a chance to win cash prizes valued at $100,000, and in-kind prizes valued at over $50,000!
The $100k New Ventures Competition is the flagship venture competition at Tufts. Early stage innovators and entrepreneurs pitch their ideas in three tracks: General Technology, Social Impact, and Healthcare & Life Science. We welcome applicants across the Tufts community: Undergraduate and graduate students, recent alumni, faculty and staff across all 11 schools and colleges at Tufts. The competition culminates in live pitch competitions at the virtual semi-finals and finals.
What's new in 2023:
All semifinalist teams from each track will receive a $500 venture award and will be eligible to apply for a $5,000 AWS (Amazon Web Services) credit through Derby Entrepreneurship Center's partnership with AWS.
We will be hosting live watch parties for each track, as well as a pizza social prior to the event to enable those who are able to come to the Medford campus in person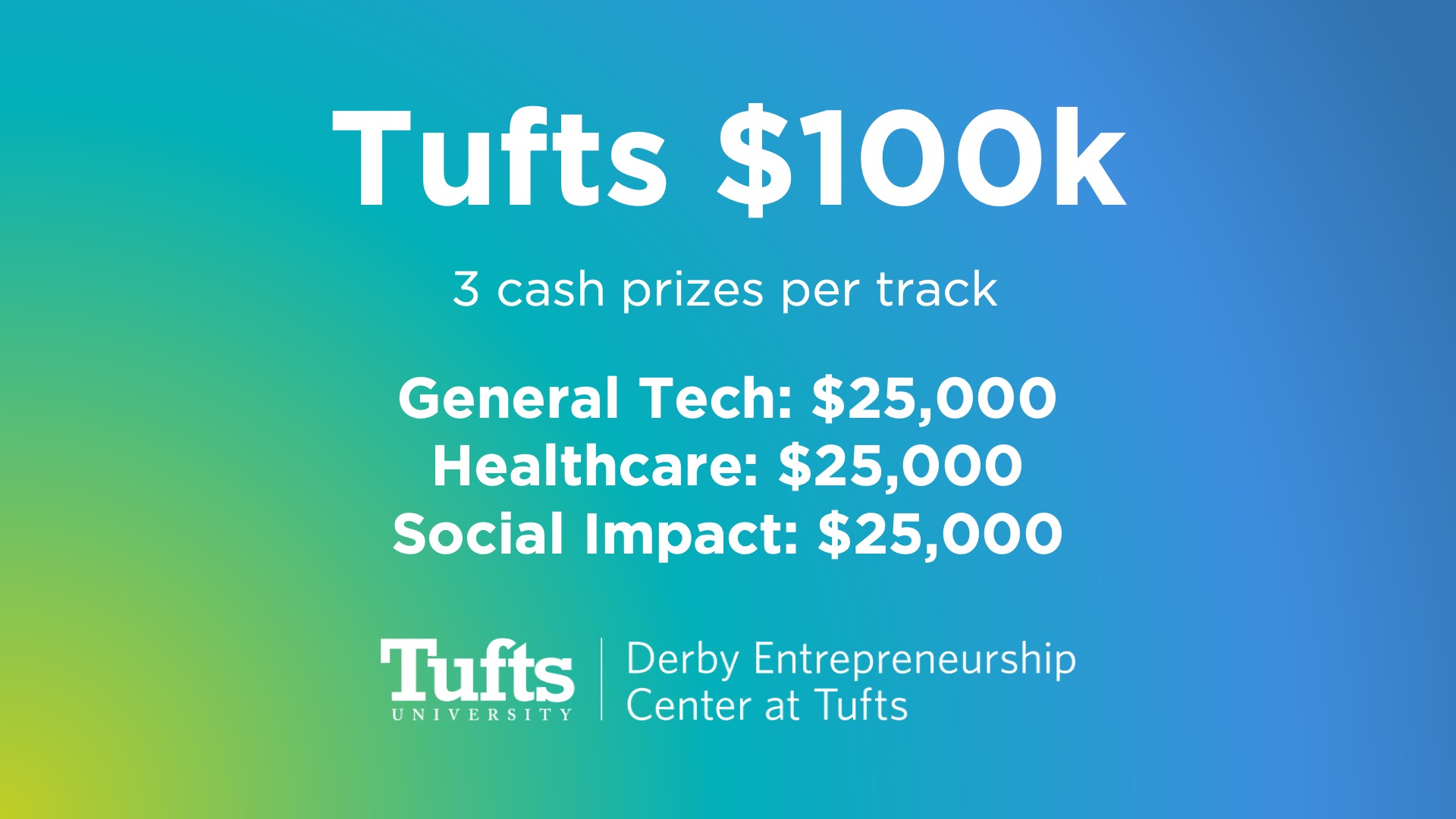 Hybrid Info Sessions:
January 26, 2023 at Cummings School of Veterinary Medicine
January 31, 2023 at Tufts School of Dental Medicine
January 31, 2023 at Tufts University School of Medicine
February 8, 2023 at Tufts SMFA
Applications open: February 1, 2023
Deadline: February 28, 2023
Semi-finals: March 9, 2023, 6-9pm ET
Finals: April 13, 2023, 6-9pm ET
Pitching & Judging Criteria
The live semi-final and final pitches will be 5 minutes long with 5 minutes of Q&A from a panel of judges
In addition to pitch practice, semi-finalists and finalists will be coached on lighting and audio/visual setup for the best virtual pitch possible
Judging Rubric for All Stages
Problem: Does the team understand the problem and their target customer?
Solution: Does the solution solve the problem in a unique manner compared to the alternative?
Go to market strategy: Does the team have a credible and actionable go-to-market strategy?
Financial sustainability: Is the proposed business model financially sustainable?
Scale: Is the venture capable of scaling up to impact a large number of people?
Impact: How is the world a better place if the team solves this problem?
Team: Did the team convince the judges they are the right people to solve this problem?
Presentation: Was the presentation engaging and effective?
Wildcard: Did anything else particularly impress you?