FoodHack Boston: Building a Plant-Based Company in New England
Date
November 16, 2023
Time
6:00 pm - 7:30 pm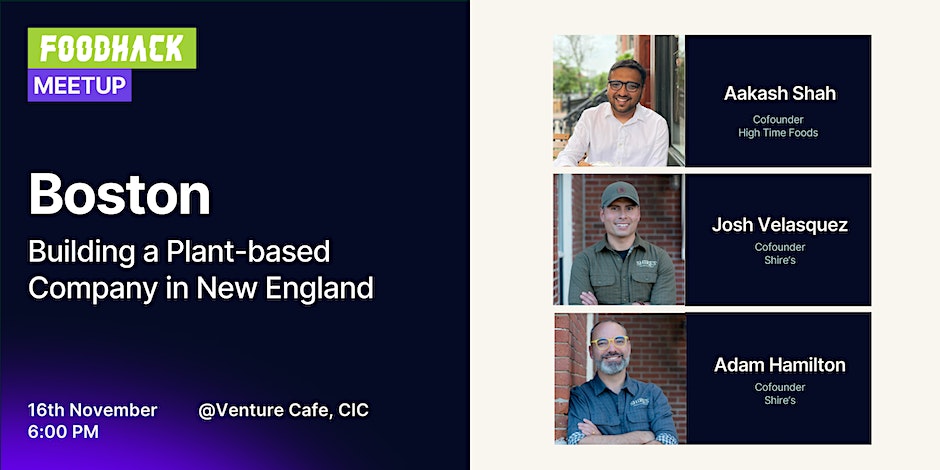 https://www.eventbrite.com/e/foodhack-boston-building-a-plant-based-company-in-new-england-tickets-685347130717?aff=oddtdtcreator
Join our meetup for entrepreneurs, professionals, investors and food enthusiasts to network and hear from food industry speakers.
Whether you're just starting your food business, looking to connect with startups to invest in or want to network with other like-minded professionals – this event is for you.
The event is free but registration is necessary AND we need you to register via Venture Cafe too for you to get an access to the building.
Guest Speakers :
Aakash Shah, Cofounder at High Time Foods
Josh Velasquez & Adam Hamilton, Cofounders at Shire's (previously Nuttin Ordinary)
Q&A: you will have the opportunity to ask questions to your local speakers.
Pitch:
Are you launching a new product? Are you looking for your next R&D expert or your next CEO? Are you looking for a job or an internship? Join our 30-second pitch session and share your business update with the audience (open to anyone).
Networking with Food & Drinks
Date: November 16th, 2023
Hour: 6-7.30pm
Language: English
Venue: CIC, 1 Broadway, Cambridge MA 02142
About the Organizer:
FoodHack is a community-driven platform that inspires, highlights and connects food entrepreneurs and innovators. With meetups across the globe, a bi-weekly food industry newsletter, a membership program and an annual summit.
Must RESERVE in advance and please do let us know for cancellation