Virtual Ecosystem Event: Building and Funding Ventures for Impact
Date
February 23, 2023
Time
6:00 pm - 7:30 pm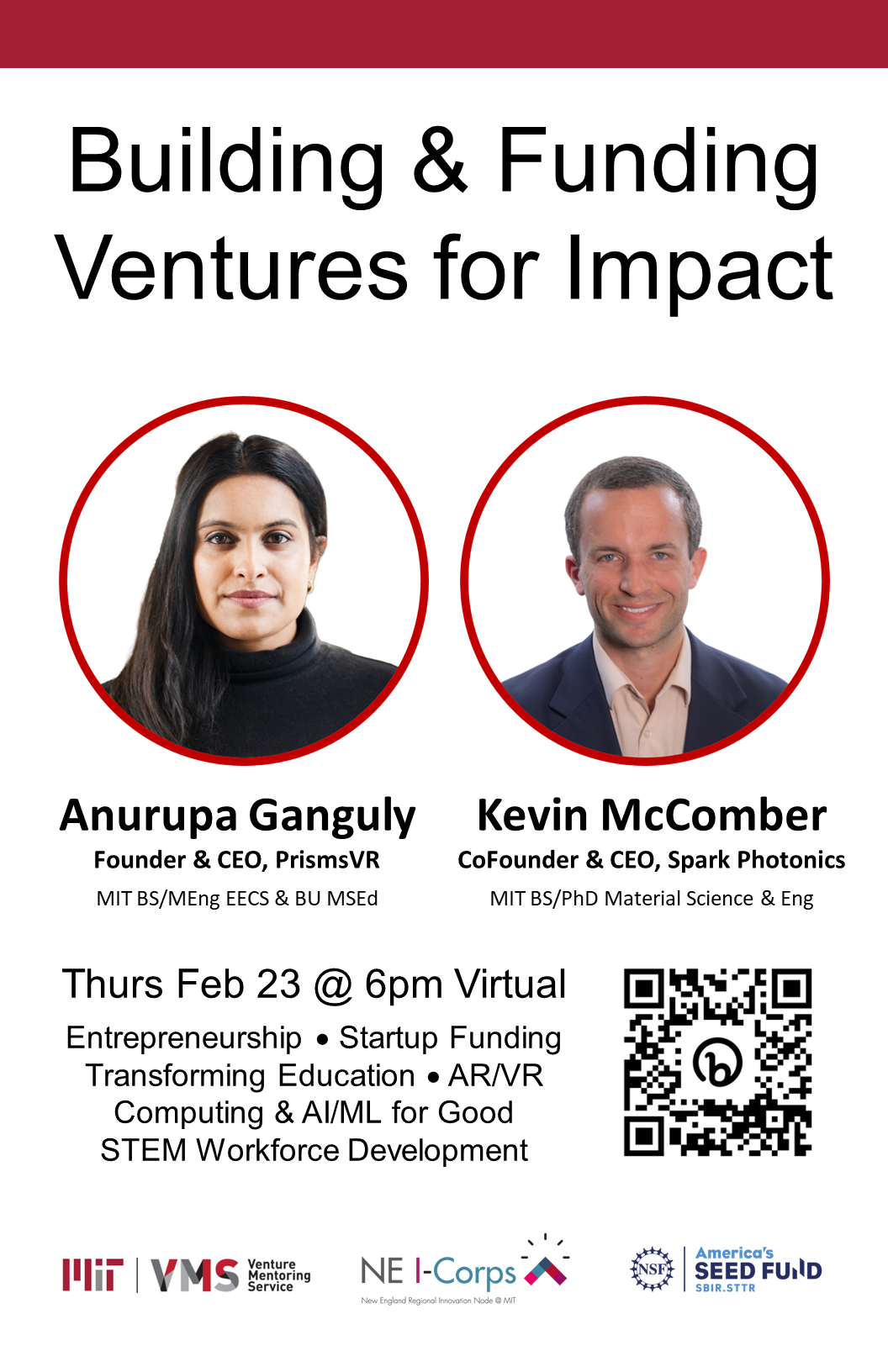 Join two inspiring founders with a passion to help build a better world as they share their journeys towards impact and success – offering real world, real time insights on getting started, the power of networking, building teams, and raising funds for their ventures. Each will welcome questions.
Anurupa Ganguly (MIT BS/MEng EECS) will share her path from educator to the founder of a for profit venture combining AR/VR, computer science, experience design, and learning science to disrupt and transform STEM education. Anurupa has raised $20+ million, starting with friends & family, NSF/NIH SBIR grant, and venture capital funding. Prisms is already operating in 26 states.
Kevin McComber (MIT BS/PhD Material Science & Engineering) will share his experience building the Spark Photonics for-profit business and not-for-profit foundation, introducing the exciting fields of photonics, semiconductors, and advanced manufacturing to the next generation of U.S. workers. The foundation has been funded by grant, donation, and revenue sources.
Our focus will be on two ventures helping build a better world through impact in the education and workforce development sectors, but the discussions will be applicable to building ventures in all sectors.
Founders:
Anurupa Ganguly
Founder & CEO, Prisms
https://www.linkedin.com/in/anurupa-ganguly-92790379/
Kevin McComber
Co-Founder & CEO Spark Photonics, Executive Director Spark Photonics Foundation
https://www.linkedin.com/in/kevinmccomber/
Moderators:
David Birnbach, MIT SM Management
https://www.linkedin.com/in/davidbirnbach/
Matt Cherian, SM EECS & SM TPP
https://www.linkedin.com/in/mcherian/
Date
February 23, 2023
Time
6:00 pm - 7:30 pm